Sometimes I like to change things up a bit. This week I have decided
to participate in Feeling Beachie's Friday Fill-In Fun Blog Hop. I often hop, but this week I am playing with the rules and PAWticipating! So here goes. (BTW, if you wanna play along, click on the logo and it will take you to FEELING BEACHIE.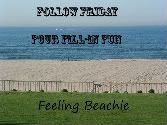 This week's statements:
1. I am a ____
2. Sometimes I don't know when to ____
1. My two favorite words lately are ___________ and ____________
2. I would like ____________ if ____________ didn't happen
I am a PUG PRINCESS, of course!

Sometimes I do not know when to SHARE! I try, real hard. But there are certain toys AND MY MOMMYS that I do NOT like to share!

My two favorite words lately are FOOD and TREAT!

I would like Molly if her POOP eating didn't happen. She is determined.
So there you have it. Have a GRRRRR8 weekend, Go Niners!!! Go SJ Sharks!!! Go SUNSHINE!!! (and I do not mean the cat).